Mark your calendars and come celebrate the launch of Nothing's Ever Lost at my local indie bookstore, The Briar Patch, in Bangor, Maine on July 24 at 6 p.m.
The Briar Patch is a delightful, cozy little bookstore that must be bigger on the inside. It holds more books than seems possible. Every time I go in, I find something surprising and delightful. (Currently taking bets on whether I can make it through my own book launch party without buying someone else's book at the Briar Patch. The smart money says, "no.")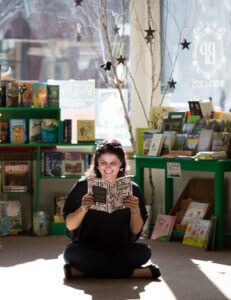 Be among the first to snag a copy of the book. I'll be there to sign copies and read a page aloud. Plus, just showing up gets you an entry into the drawing for a limited edition bag full of goodies. Get another ticket for every book you buy.
If you're in or around Bangor, Maine on July 24th, come out and join us for the launch party.
Bring a friend. There will be snacks. Pre-order in store or online at bit.ly/nothingseverlost
I can't wait to see you!