Once upon a time, two friends started an indie author podcast. A year later, they're still publishing episodes once a week and growing their audience on Twitter and Instagram. Are they the biggest thing since Crime Junkie? No. But fame isn't the only reason to start a podcast. There's also networking, knowledge, profit and fun.
If you're an indie author, you might look around at The Creative Penn and The Indy Author Podcast and wonder if podcasting is right for you. To help you decide, I'm offering an insight look at how we started Indie Book Talk and what we get out of doing it.
What is Indie Book Talk?
Indie Book Talk is a podcast for indie authors about indie publishing. We do author interviews, book reviews, and informational episodes based on our experience. Our goal: to help indie authors navigate the expanding universe of indie books.
Unlike many podcasts we have no sponsors and run no ads. The show is hosted by me, Emma G. Rose, and my friend Shelley Shearer. Our first episode went live on Dec 3, 2020. Since then, we've posted an episode every week (except one).
Why did we start our Indie Author Podcast?
At the end of 2020, I got this wild idea that I wanted to start a podcast. I trained as a journalist and I enjoy interviewing. Most importantly, I find that people will happily share their knowledge if you have a platform. My goal: To learn as much as I could from other indie authors and share that information with as many people as possible.
This goal is nice because it's attainable. Members of the indie author community love sharing their knowledge and expertise. It's a welcoming community.
Shelley came on board because she'd had a podcast before and missed the opportunity to chat about books and writing. She helped me feel confident in our setup because she'd done some of this already.
What A Podcast Can (and probably won't) Do for You
From our own experience and in talking to fellow podcasters we've learned what hosting your own podcast can do for you:
It can:
Connect you with other authors
Build your author platform
Increase your confidence in public speaking
Expand your knowledge of writing, publishing and marketing
It probably won't
Help you sell fiction
Make you famous
Pay your rent
I feel like a disclaimer is in order. You absolutely can make money, get famous, and sell books with podcasts, but if those are your primary goals, there are probably other places to spend your time and energy. Podcasting is fun, but it's also work. It's only worth it if you enjoy the process.
In the episode of Indie Book Talk embedded below Matty Dalrymple, host of the Indy Author Podcast, answers the question: Can Podcasting Help Build Your Author Platform?
My Experience: Connections are Valuable!
With all that being said, connecting with other authors and podcasters is a valuable exercise. It might be the most valuable part of the whole podcasting journey. For example, having a podcast connected me with Emma Jean, author of Sleeping Beauty and the Cursed Code.
At the time, she was hosting an Instagram Live show called Emma Jean Interviews. We swapped appearances. I went on her show and she came on mine.
When she was ready to leverage her platform into an author training program for teens, guess who she asked to be a professor? I probably wouldn't have gotten the chance to be a professor at the Im An Author Academy if our podcast hadn't introduced us.
What you need to start an indie author podcast
You actually don't need a ton of equipment or a fancy sound booth to start a podcast. Here's what you do need:
microphone – the built in one on your computer might be okay here, but you can spend about $30 and get a decent mic that improves overall sound quality
headset – echo is hard to remove after the fact. Wearing headphones will keep your mic from picking up your guests' or cohost's voices
recording platform – we use Zencastr because it records individual tracks for each person, it doesn't work on mobile, so your guests need a computer
hosting and distribution platform – we use Anchor because it automatically distributes our podcast to Apple, Google, Spotify and other platforms. We used the RSS feed to add it to Audible as well
Editing is the biggest learning curve and time commitment. (And I still have a lot to learn.) It takes about twice as long to edit as it does to record. That's one reason why we limit our podcast to about 20 minutes.
You also need an idea, a name, and a cover image. Dedication and willingness to learn will help here too, but if you're an indie author, you already have those things.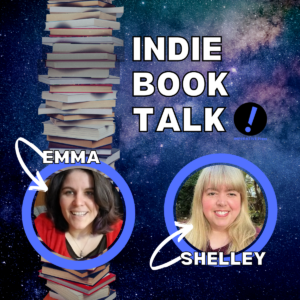 So Should Indie Authors Host a Podcast?
Shelley asks almost every author we interview whether their marketing and social media efforts cut into their writing time. Podcasting definitely cuts into mine. I devote between one and three hours a week to recording, editing, or posting about our podcast. (Full disclosure: I also have an amazing PR person who helps me with social.) But it's worth it.
Podcasting fills a different need from writing. I write because I have something to say and because I hope people will be supported and entertained by my books. I podcast because I want to connect. And with every episode, I'm succeeding.
---
I run on caffeine and curiosity. If this post feels valuable to you, please consider buying me a coffee so I can keep writing things like this: Buy Emma A Coffee.