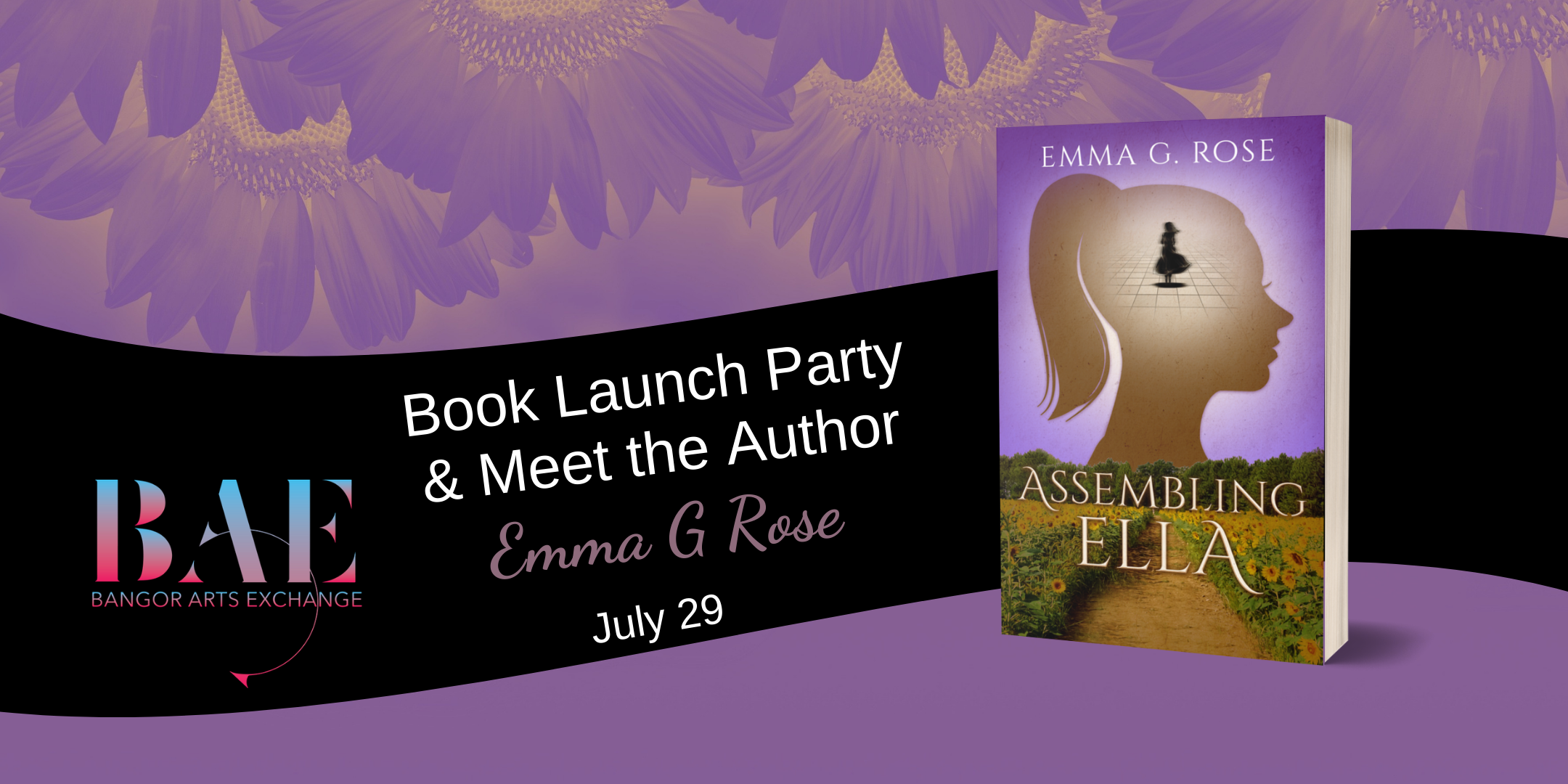 Celebrate Assembling Ella by Maine author Emma G. Rose, live and in person* at the Bangor Arts Exchange.
When and Where?
July 29 at 6PM at the Bangor Arts Exchange in Bangor Maine – 193 Exchange Street
Meet the author and get your books signed at this live and in-person* book launch party. If you can't make it to Bangor scroll to the bottom of the page for virtual event details.
Books! Books! Books!
We're celebrating the YA Fantasy novel, Assembling Ella. We'll have copies of Assembling Ella, Nothing's Ever Lost, and Near-Life Experience available for sale by cash or credit card. Grab your copy and get it signed.
Meet the Author
Author Emma G. Rose will read an excerpt from Assembling Ella and take questions from the party. This is your chance to pick her brain about her books, writing, publishing, or anything else you're wondering about.
She'll also sign books, bookmarks, shirts, and other swag you happen to bring along.
Enter to Win
Plus enter the drawing to win an exclusive prize pack including:
signed copy of Nothing's Ever Lost
hand-embroidered book tote
metal water bottle to hydrate while you read
stickers and bookmarks
and, a suprise (!) gift handmade by the author
You must be present to enter and win. Winners will be drawn at the end of the event.
Other Important Details
Snacks? We'll have light refreshments including water.
Kids? Assembling Ella is suitable for readers aged 14 and up. We talk about death, loss, and being a teen. If your kids aren't ready for those conversations, it might be best to get a sitter.
Accessibility? The event space is on the third floor. You may climb the stairs or use the elevator in the lobby.
Mask Policy? Per state guidelines, those who are vaccinated do not need to wear a mask. If you are unvaccinated (or just uncomfortable) please keep your mask on while in the building.
Details of the Virtual Event TBA
Join the email list to get all the details sent right to your inbox.