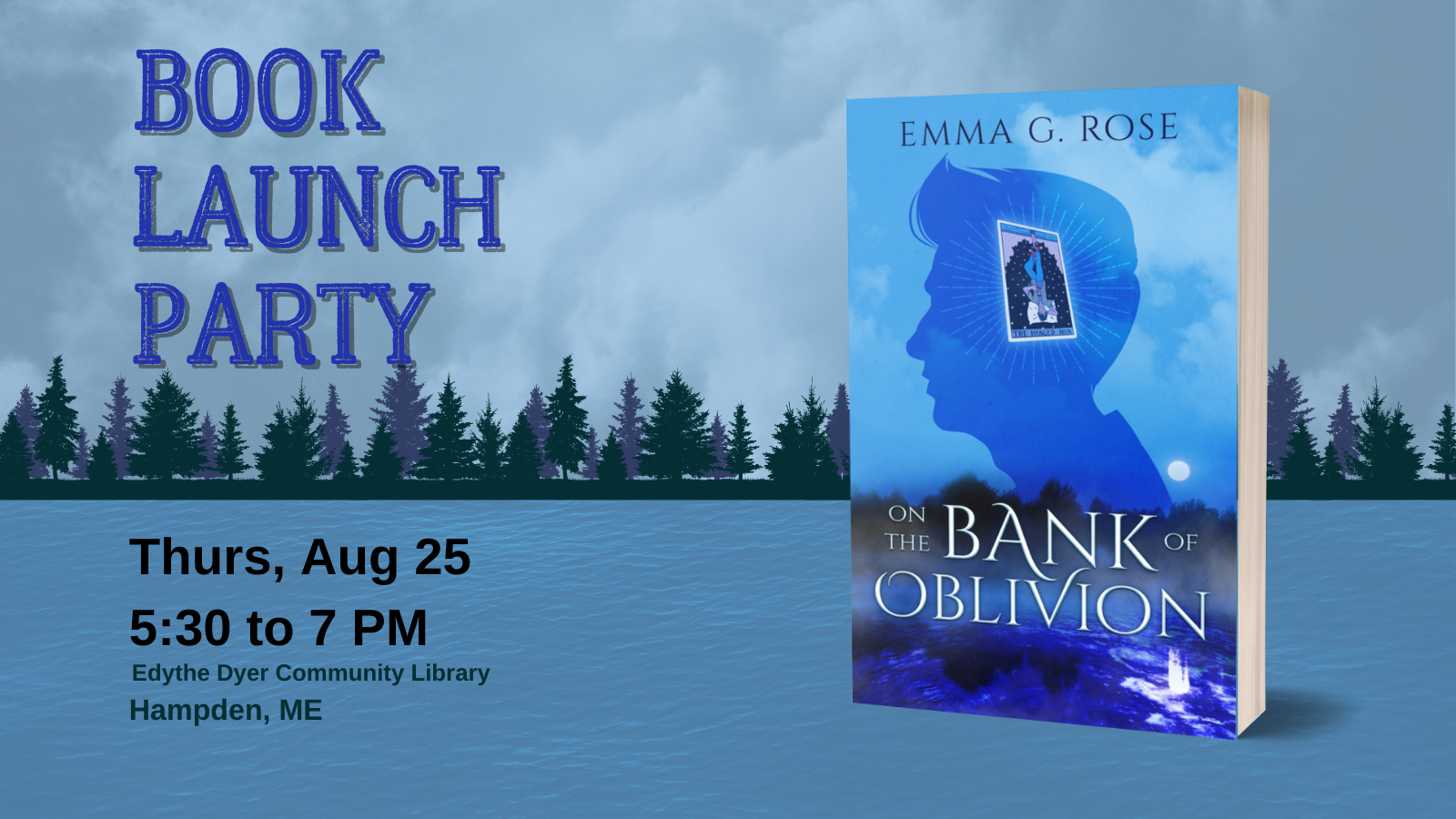 Celebrate On the Bank of Oblivion by Maine author Emma G. Rose, live and in person at the Edythe Dyer Community Library in Hampden, Maine.
When and Where?
August 25 from 5:30 to 7PM at the Edythe Dyer Community Library in Hampden, Maine.
Meet the author and get your books signed at this live and in-person book launch party.
Books! Books! Books!
We're celebrating On the Bank of Oblivion, but we'll have copies of all of Emma's YA and adult novels including: Assembling Ella, Nothing's Ever Lost, and Near-Life Experience available for sale by cash or credit card. Grab your copy and get it signed.
Meet the Author
Author Emma G. Rose will share her journey with chronic illness and read an excerpt from On the Bank of Oblivion. Bring your questions about books, writing, publishing, or anything else you want to know. She'll also sign books, bookmarks, shirts, and other swag you happen to bring along.
Enter to Win
Everyone who attends can enter the drawing to win an exclusive prize pack including:
Drawing supplies
Imperative Press Notebook
Tarot Deck Coloring Book
Bag of Coffee ( from Bones Coffee)
Imperative Press Coffee Mug
Sticker Pack
Drawstring Backpack
You must be present to enter and win. Additional raffle tickets will be sold at the event to benefit the Library. Winners will be drawn at the end of the event.
Other Important Details
Snacks? We'll have light refreshments including coffee and water.
Kids? On the Bank of Oblivion is suitable for readers aged 14 and up, but the event will be suitable for children of all ages. Bring the whole family.
Mask Policy? You are welcome to wear a mask if it makes you more comfortable.