A self-imposed book buying ban doesn't have to mean a life without reading. There are inexpensive ways to feed your reading habit, while still supporting the authors you love. So, what is the cheapest way to read books? I'll explain.
As someone who loves books, but is also about to start graduate school, I've been looking for economical (but ethical) ways to feed my reading habit. I've found a surprising number of solutions. All of these are legal venues that give authors the credit they deserve while giving you a cheap way to read books.
How to Read Books Without Buying them
There's nothing cheaper than free. These services and websites offer you free access to more books than your TBR can handle. We start with my favorite option…your local library.
Your Local Library – The Cheapest Way to Read Books!
Your local library should be your first stop if you want to read books cheaply. I practice what I'm preaching here. My keychain currently has no fewer than three library cards on it. If you're thinking the library can't work for you because your local library is smaller than your bedroom at home, allow me to introduce you to interlibrary loan.
Pretty much every local library has access to an interlibrary loan system that lets them lend and request books from other libraries in their region, state, or county. So even if they don't have the book you want on the shelf today, they can probably get it for you! And if enough patrons request the same book, they may put it on an acquisitions list.
Library eBooks and Audiobooks
If you prefer eBooks or Audiobooks, your library has your back. Many still have at least a small selection of books on CD, and most are members of at least one online library service. Online library services are amazing. As a card-carrying patron of your local library, you get free access to every book in the online collection.
Ask your friendly neighborhood librarian about:
These services offer eBooks, audiobooks, comics and more all for free to library patrons. Libraries buy the right to circulate a digital version of the book, so authors still get paid. They're the cheapest way to read books online.
Little Free Library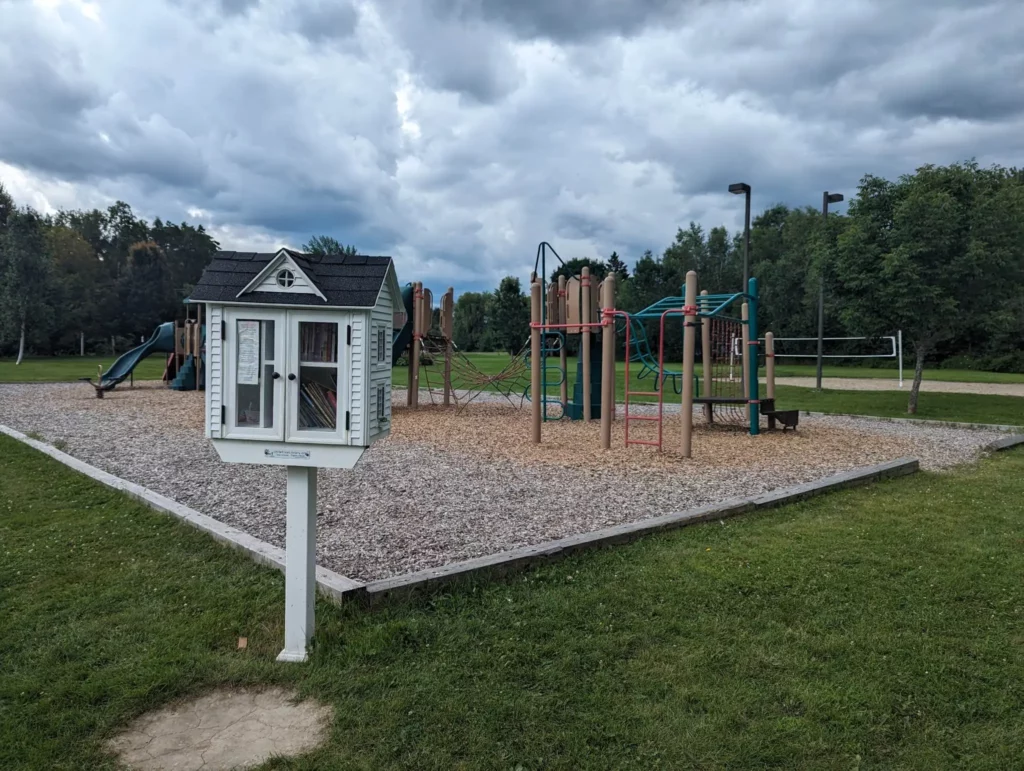 When you're walking around your neighborhood, keep an eye open for a Little Free Library. These tiny cabinets pop up in parks, on sidewalks, and even in front of private homes. The books are free to take, or you can donate some of your own.
You can use the Little Free Library interactive map to find the ones near you. I was surprised to find 3 in my small town of Hampden, and no less than 20 in the neighboring city of Bangor.
Other Ways to Read Cheaply
While libraries are certainly the best way to read books cheaply, they're not the only way. Check out these free and low cost solutions.
Become a Beta Reader or Book Reviewer
If you love being the first to read a new release, you might look into becoming a beta reader. This is an advanced book reading strategy because it requires you to put some work in. Most authors use beta readers, people who read an early draft to give big-picture feedback before the book is released.
Indie authors are always looking for this kind of help. Traditionally published authors tend to be a little more closed off, because they're working directly with a big publisher who has a system in place. Reach out to your favorite indie author or look for a form on their website to opt into their beta reader list.
There are also a few sites that release advanced reader copies (ARCs) of books to build up reviews before launch. Look at Pubby or Booksprout to get access to these books. Keep in mind that these platforms usually keep track of who leaves reviews and who doesn't. Make sure you're willing to do your part and leave honest reviews.
Used Book Stores and Sales
Once again, your local library comes to the rescue. Many libraries hold periodic or year-round book sales to support their programs. The Edythe Dyer Community Library here in Hampden has turned their entire basement into a used bookshop.
Library sale prices are usually incredibly low. Once, while visiting my cousin, we dropped by the last day of her local library's book sale and I got an entire bag of books for a dollar. I gave them five bucks and still felt like a bandit.
Start a Book Exchange
This one requires some extra effort, but can be fun if you're friends with other readers. Coordinate a book exchange with friends and family. Several people in my family do this with puzzles.
Here's how it works: someone buys a puzzle, builds it, then marks their initial on the back. If they want the puzzle back, they circle their initial. Then they send a picture to the group. Someone else can ask for that puzzle and takes responsibility for passing it on when they're done.
You can do the same with books. Just use a pencil to mark your initial on the inside cover. You can adapt this for all kinds of uses, including coffee houses, yoga studios, classrooms, and anywhere else people gather and might want to read the same books.
Read for Free Right Now!
If you'd like to read for free right now, I've got you covered. Just drop your email in the form below and I'll send you a free short story as a thank you for joining my mailing list.