They're hiding on the shelves of your favorite bookstore, between big names like TJ Klune and Colleen Hoover. Maybe you've even read a few of their books without even realizing it, or you're like me and seek out indie authors wherever you can find them. But what exactly is an indie author and how can you spot one in the wild?
As an indie author myself, I'd love to answer that question for you.
An indie author is an author who publishes their own books or works with small and hybrid presses to distribute their work. Much like indie musicians or indie fashion designers, indie authors operate outside the normal industry structure to bring you something new, different and authentic.
Small Press vs. Self-Published vs. Indie Authors: What's the Difference?
If my definition of indie author sounds a lot like a self published author, there's a good reason for that. Self publishing is one path that indie authors can take. Self published authors are authors who coordinate all aspects of the publishing process themselves. They may hire help from editors, cover designers, or other professionals, but they retain full creative control and responsibility.
Some indie authors also choose to work with indie presses. These small or hybrid presses are usually more niche than the big publishers like HarperCollins and Penguin Random House. Some authors choose small and hybrid presses so they can keep more control over their work. Others do it because the big five publishing houses tend to look for books that fit certain market trends and those authors may not fit the trend of the moment.
Which brings us to the most important part of this article, reasons you should read indie authors.
Why You Should Read Indie Authors
As a reader, you may not even notice that you're reading an indie author's work. Afterall, a good story is a good story. But there are a few reasons why you might want to make an effort to read the work of indie authors.
Read outside the box – Have you ever noticed how if one book is popular, there are suddenly a dozen other books with a similar premise or feel? That's because publishing is a business and big businesses are betting on trends to help them reach their sales goals. They pick books that they think will appeal to the widest possible audience.

Indie authors are more likely to write off-beat, unusual, or outside current trends. They have stories to tell and they're willing to trade fewer sales for the right to tell their story their way.

Unfiltered perspective – Indie authors have fewer stakeholders. Instead of trying to please an agent, editor, publisher, marketing team and the rest of the big-publishing machine, they're focused on just two people – themselves and the reader. That means you're more likely to get the author's unfiltered perspective and authentic voice.
Support small businesses – Indie authors are essentially small business owners. They're producing creative products for consumption by the public. When you buy, review, and share their books, you're supporting a small business. Bonus points if you buy the book at an indie bookshop.

Get a direct line to the author – Traditionally published authors often exist behind a screen of PR people, marketing teams, and corporate rules. When you send them an email or engage on social media, you probably won't get a direct response. Meanwhile, most indie authors are thrilled to hear from readers and will happily interact with you online or at author events.
"If you only read the books that everyone else is reading, you can only think what everyone else is thinking."


― Haruki Murakami, Norwegian Wood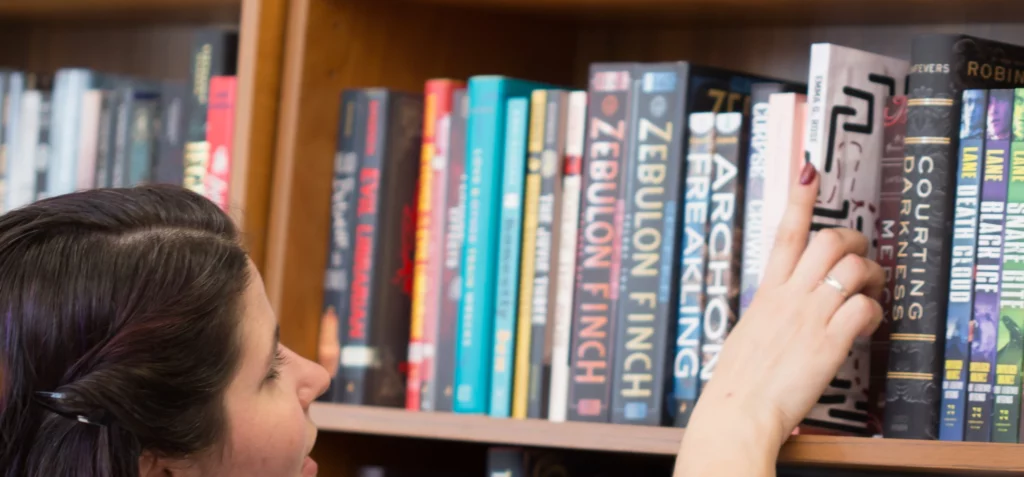 How to Spot Indie Authors in Bookshops
If I've convinced you that reading indie authors is a good idea, you might be wondering how you spot one in a bookshop. There are a couple of ways to tell if a book is indie published.
Check the title page. The publisher is usually listed on the title page. If you see Penguin, Random House, Harper Collins, Simon & Schuster, Macmillan, or Hachette, you've picked up a traditionally published book. Sometimes these publishers use imprints, brand names that refer to a specific part of their business, for example, Inkyard Press is an imprint of Harper Collins. So this isn't a foolproof method unless you know all the publishers and their imprints by heart.

Read the copyright page. The copyright page will usually note both the imprint and the publisher. For example, my copy of Klara and the Sun says it is "published in the United States by Alfred A. Knopf, a division of Penguin Random House LLC."

Look at the barcode. Most books sold in stores have a barcode on the back. Actually, they usually have two. The big barcode has the ISBN above it. The smaller barcode has a five-digit number. If that number is 90000, you're looking at an indie book. Some indie authors use other numbers on their barcodes, so this isn't a foolproof method either.

Visit the author's website or social media. Most indie authors are proud of their independent approach and will happily tell you about it. Almost every author will mention who their books are published through, so you can investigate the publisher to see if they are indie or an imprint of the big-five.
Indie Authors Worth Knowing
There are thousands of indie authors out there doing the hard work to make their books great. I couldn't possibly name them all here, but I will give you a sampling of some of my favorite indie authors right now. I hope you'll check them out, follow them, and buy their books.
I chose these authors not just because they write great books, but because of their professionalism and overall support for the indie community. If you love sci-fi or fantasy stories, you'll find something you love on this list.
S.Z. Attwell, author of Aestus
Like Dune with more heart and a more likable protagonist. Aestus is an epic science fiction adventure set in a terrifyingly believable post-apocalyptic world. Attwell divided it into two books so you could read it without straining your back, but do yourself a favor and buy both at once.
Steve is a wise-mouth grim reaper paying off his debt to society one creative soul culling at a time. If you like off-beat fantasy, you'll love this. First two books are out now. The third and final (?) book of the series is scheduled for late summer, 2023. I love McKnight's minimalist covers and unusual approach to afterlife adventures.
Sci-Fi goes deep. A clever girl with a penchant for programming goes deep into the heart of a planet and uncovers something that could change the universe. This impeccably researched book is the first of at least two in a series, with the second book, Scribes Aflame is slated for August 2023. West has also created a video game based in the same world. If you're lucky enough to be in his area of Virginia, you may get to test it out at an author event. 
Henry Mack is lightyears better than that other modern wizard who's name starts with an H. No, not the British one, the other guy, with the hockey stick. You know who I mean. Point is, Hopkins weaves a unique, creative world with none of the causal misogyny and general ickiness of those other wizard stories. Seriously, I can't wait for book two in The Chronicles of Henry Mack.
When a high school science teacher writes a book about cryptozoology, you know he's going to do it right. Full of clever illustrations and interesting facts, this book is an essential guide to beasts of legend and folklore. Quotes from local newspapers and stories from First Nations give this compendium the weight of truth, even though the subject matter is mythical. Even if you don't live in Maine, it's well worth a look.
James' playful approach to storytelling is on full display in this space opera reimagining of that play about a plant that eats people. If you love classic sci-fi, or hit musicals, you've found your next read. If you like this one, James has a catalog of other works that span adult to middle-grade and playful fantasy to modern horror.
Genelea Barker, Author of Life After
This book should come with a box of tissues and a pint of ice cream. It will rip your heart out, tear it to shreds, stomp on it, then stick the pieces back together and thrust it all back into your chest. Devastating and hopeful, this book has all the feels. Barker is also a delight on social media. So go follow her on Instagram.
Two teenagers die in a car accident and go on an adventure through the afterlife. The perfect place to start if you're new to my work, Nothing's Ever Lost introduces you to Death and the many people who keep his world running smoothly.
The best way to support indie authors is by buying and reading our books! Click the links above to order one, now.