As an art lover and resident of the Greater Bangor Area, I love that the city embraces art and artists. Art isn't limited to galleries and museums here. In Bangor, Maine, you can see art on the streets, in the coffee shops, and even in the offices of businesses.
I'm not talking about boring, office-safe "art" either. The buildings in Bangor are filled with, and surrounded by, unique and engaging artworks. The pieces tend to be locally made and contemporary, often with bold colors and unusual subject matter. You'll find plenty of small artists to support, many who live and work in the Greater Bangor Area.
What I'm saying is, if you enjoy art, you might want to block off a day of your Maine vacation to visit Bangor. Here's where to find art in the area.
The Rock and Art Shop
This quirky shop is one of the best places to find artsy stuff and other oddities in Downtown Bangor. You'll find crystals and gems alongside pint glasses featuring famous scientists. The back of the Rock and Art Shop carries animal bones and preserved creatures in the style of Victorian curiosities. There's also a dedicated gallery space that usually showcases the work of one local artist at a time.
Art in the gallery space often matches the magician's storeroom aesthetic of the rest of the shop. One that sticks out in my mind is a show entitled Body-Parts by Donald L. Patten, which featured organs and other body parts with faces.
The annual All Small Show is also not to be missed. It features more than 50 local artists creating work on 6×6" birch wood panels. The exhibit they have right now features works by John LeBlanc.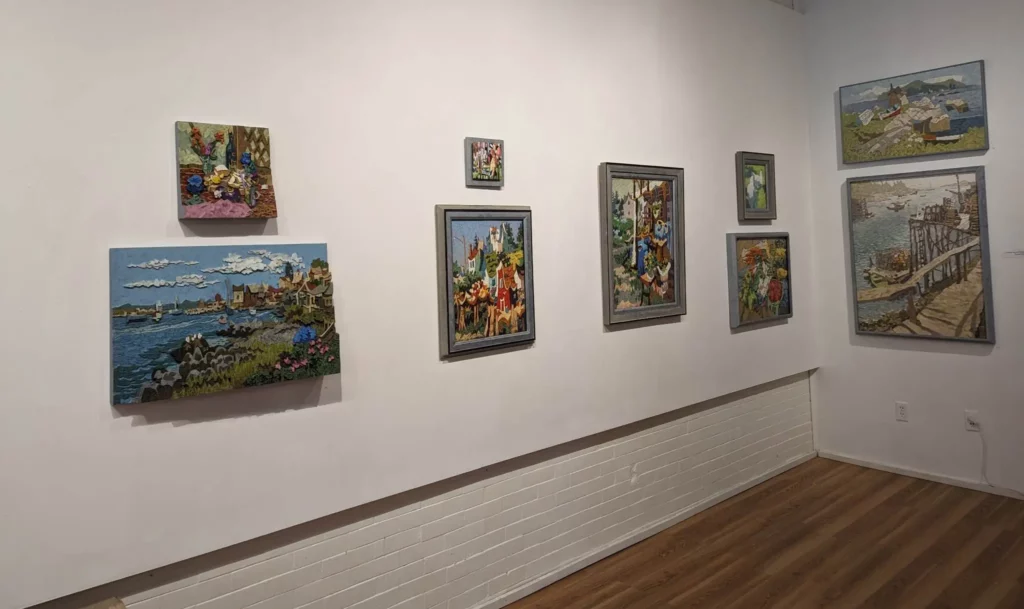 Coffee Shops Where You Can See Art
Bangor's coffee shops love artists. Whichever shop you pick, you're bound to see art that catches your eye. I particularly like the choices at Wicked Brew Cafe, which tend to be eclectic. The food is awesome too.
I also have high hopes for the newly renovated Chimera Coffee Co (formerly West Market Square Coffee). They've already made the smart choice with an exceptional little show from local Bangor artist Sam Bullard.
If you're reading this before Tuesday July 11, 2023, maybe swing by their grand reopening event and see for yourself. Also, this Friday, July 7th Chimera Coffee is hosting an exhibition of Sam Bullard's work for the First Friday Artwalk, 4 -8pm.
Even if you can't make it to either event, Bullard's art is worth making a special trip for. That purple portrait on the left certainly caused a seismic shift in my soul.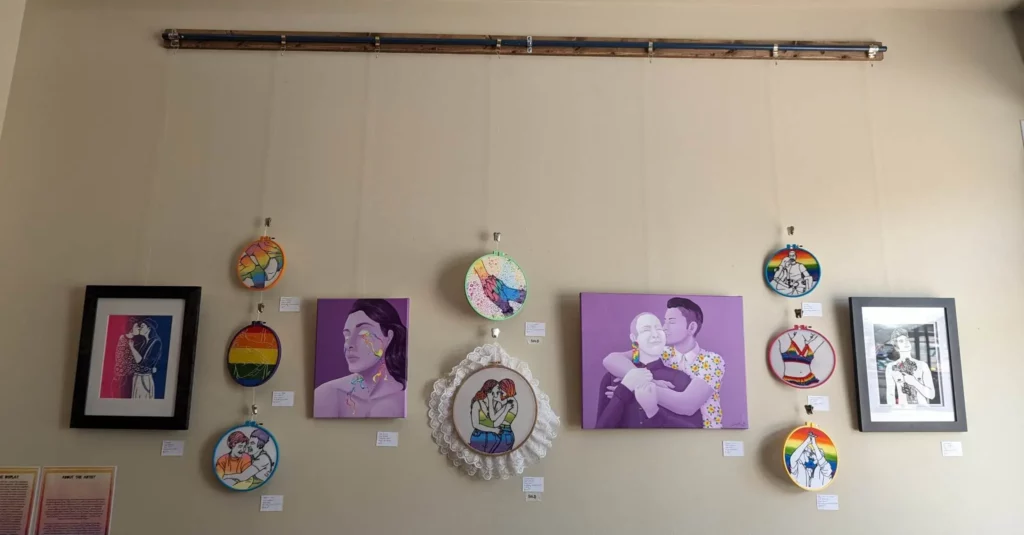 Birchbrook – Not an Art Gallery
This might be the most unusual venue on the list because it is most certainly not an art gallery. Birchbrook is an investment advising firm offering investment advising, but the owners are art lovers. They sponsor free admission to the Zillman and sit on the board of the Bangor Symphony.
Their lobby is always a feast for the eyes, featuring immersive works. It's worth stopping in to see art even if you're not in the market for investment advice.
Three Graces Tattoo and Art Gallery
I have to confess I haven't made it into Three Graces yet. They tend to be open by appointment or chance and I haven't yet hit the right moment. However, a look through their window reveals that this is a super cool place full of talented tattoo artists who work in many other mediums.
The owner often posts works in progress and art for sale on the shop's facebook page. So it's worth following them even if you don't visit the gallery.
Bangor Public Library – 3 Galleries
Why waste a perfectly good wall? The Bangor Public Library uses the stairs between the first and second floor as gallery space for a revolving series of local artworks. At the time of this post, I found Daryne Rockett's paintings whirling they're way down the stairs.
You'll find three more galleries on the third floor. Just turn left at the top of the stairs and walk back toward the performance space. These displays change regularly, so check the library's art exhibits page for more details.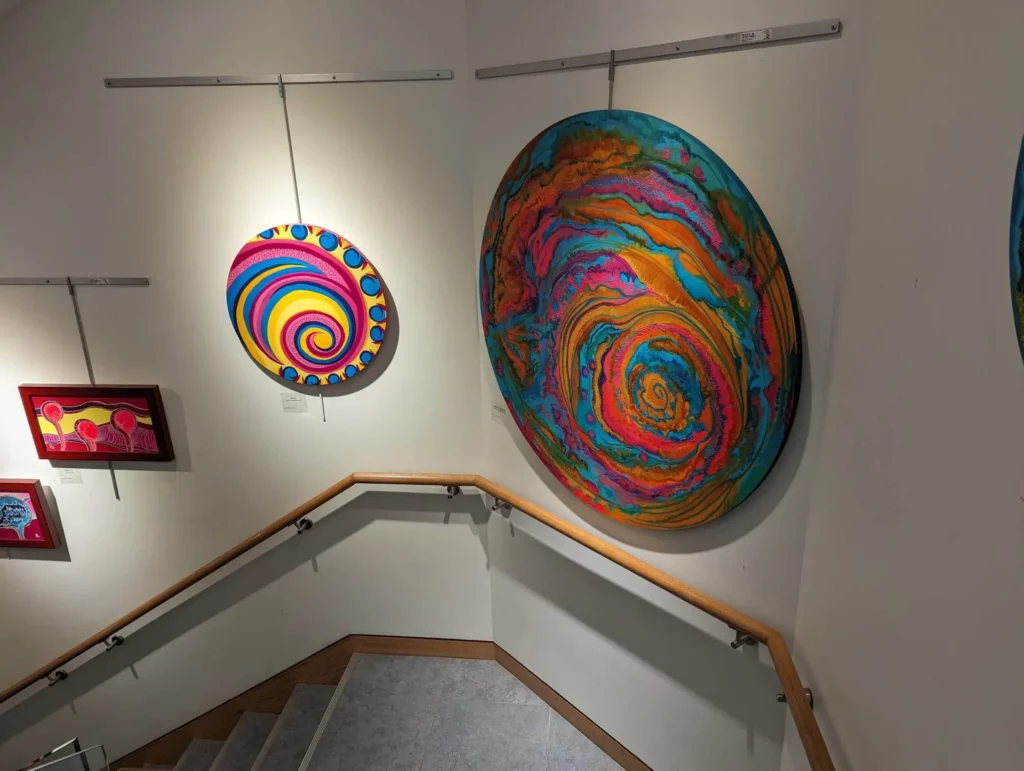 See Art Outside in Downtown Bangor
If ducking into random office buildings in search of art isn't your thing, you're in luck. You can see art on the streets too. Bangor has tons of public art in the form of murals. Look for Paul Bunyan on the side of the Rock and Art Shop building, wildlife at the Kenduskeag Stream Trailhead (cover art for this post), and some famous people from Maine on the wall of the Together Place across from the YMCA.
Bangor is also the latest city to get a mural by Matt Willey as part of his The Good of the Hive project. His goal: to raise awareness of the declining bee population by hand painting 50,000 bees around the world. (That's about the number of bees in a single healthy hive!) On July 20, 2023, the Zillman Art Museum will host an artist talk with Willey.
Arts Events in Downtown Bangor
Every Summer and Fall, Downtown Bangor hosts a Sidewalk Arts Festival. Each event features artists, artisans, musicians, and other performers from Maine. I'll have a table at this cool art show this year. If you come out, make sure to stop at the Weavings By Halley table. I bought one of her pieces last year and it's absolutely fabulous.
The city also hosts Bangor ARTober every October. This is a city-wide recognition of local creative culture. All moth, arts and culture organizations host special events, shows, author talks, receptions and concerts. You might as well just block off the whole month on your calendar now.
In the spring, the Bangor Art Society hosts their Annual Open Juried Show where you can view works by artists from all over Maine. They also do a Member Show that features works by any BAS member who wants to participate. Watch their Facebook page for show details.
Like many cities, Bangor has embraced the First Fridays movement. These events often have art themes or art exhibits and encourage people to come Downtown to see art and experience community.
New Spaces To See Art in Bangor, Maine
In June, Bangor approved an art installation that will hang multi-colored umbrellas above Cross Street. That's the short street directly across from the Maine Discovery Museum that connects Main Street to Columbia Street. The "Umbrella Sky" installation is part of an international art piece popping up in cities around the world. The exhibit will go up in the summer and come down in the fall for the next few years.
I'm also looking forward to the opening of the Wabanaki Cultural Center. It's opening on the corner of Central and Hammond Street. The mission is to help the community better understand the Wabanaki Culture. I'm hoping that includes displaying and teaching about both traditional and modern arts of the culture. One of the best ways to get to know a culture is to engage with their art.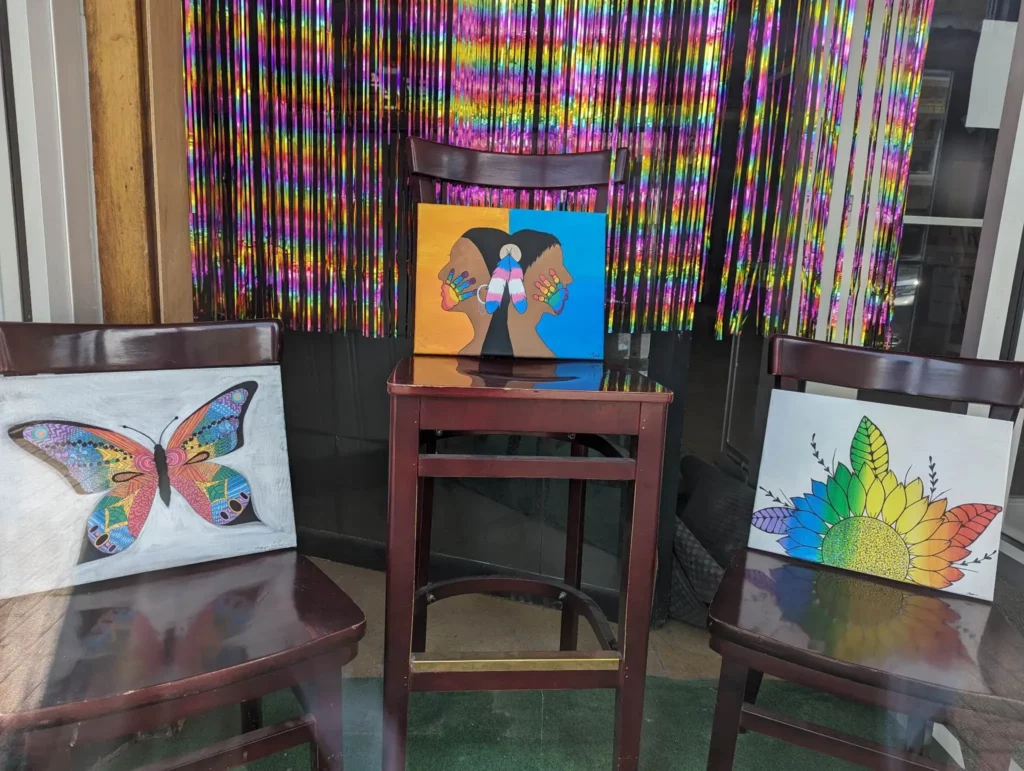 Zillman Art Museum and Local Galleries
Of course, Bangor also has the Zillman Art Museum, which houses work from the University of Maine's art collection. It hosts modern and contemporary art exhibitions, classes and events. There are also a handful of more traditional galleries like the ones in the lobby of the Bangor Arts Exchange and at the Top of the Nine.
The takeaway here is this: if you want to see art, Bangor Maine should be on your list of places to visit. You'll find fun and unusual work from local artists. Many of these projects are organized by a handful of dedicated people. You can thank Bangor Beautiful, The Downtown Bangor Partnership, The Zillman Art Museum for many of these projects.
These people are doing amazing work for our community. Show them you care by showing up to events and galleries. Share and tag pictures on social media or invite your friends out for an art adventure. If I missed any of the amazing art venues and organizations in Bangor, I want to hear about it. Contact me and help me make this blog even better.
If you like art and the state of Maine, you might like my fantasy novels. Two of them feature young artists in central Maine. Check out On the Bank of Oblivion or Assembling Ella.